Improved Medical Readiness & Medical Capability… Far Forward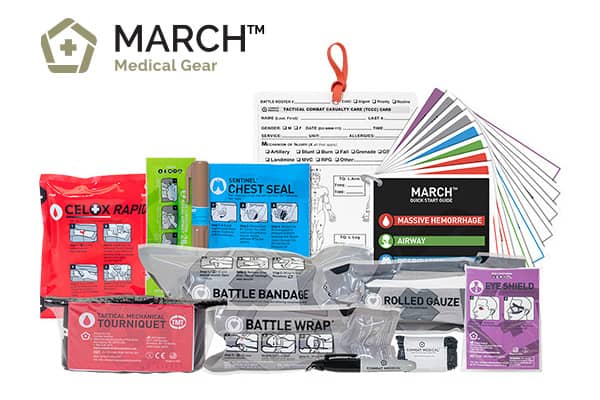 MARCH™ Medical Gear systematically targets the five leading causes of preventable death following traumatic injury. When seconds count, it is imperative that everyone, with every casualty, be able to easily apply the best intervention at the right time as close to the point of injury as possible.
MARCH™ Medical Gear achieves these results by pushing the most advanced capability as far-forward as possible with overly simple logistics. This is a proven pathway to saving more lives. MARCH™ Medical Gear is a paradigm shift in a fully integrated solution that combines clinically-proven, advanced medical devices into a color-coded, memory-performance system, simplifying the MARCH treatments. Additionally, we utilize advanced, in-house Quality and manufacturing processes so every MARCH Medical Gear Kit is delivered with a single LOT and single, 5-year expiration date, upon order. It is these kits that are currently fielded around the world with over 150,000 in use throughout the Department of Defense and both Federal and Local Agencies. By adopting standardized products and training, tactical medical readiness will ultimately simplify tasks and yield improved outcomes.
Analysis to Reduce Preventable Death
The first step towards achieving a meaningful reduction in preventable deaths is to ensure we use the best metric that measures the effectiveness of medical intervention. The Case Fatality Rate (CFR) is frequently used to measure wounded patients compared to the number of deaths. It is good for measuring soldier systems to include armor, body armor, vehicles and blast mitigation systems. However, with improved trauma data collection, measuring pre-hospital, 'Potentially Survivable Deaths' is a much better measurement of medical effectiveness. This is where we must focus on a root analysis of overall medical system performance.
During this long war, the Dr. Eastridge Study has been the most comprehensive research of combat fatalities. It took an extensive look at what casualties are dying from and where this occurs. The most striking finding is that 87.3% of fatalities occur prior to arrival at a Medical Facility (MTF). Nearly one in four (24.3%) US and coalition deaths in the 10-year period from 2001 -2011, studied by Eastridge et. al, were deemed potentially survivable. These 976 warfighters, who died that might have lived, represent where we can make the biggest improvement to decrease the number of potentially survivable battlefield deaths. Obviously, the place that needs the most improvement is with self-aid, buddy-aid and combat medical care that occurs long before they arrive at the first medical treatment facility.
At nearly the same time as the Eastridge study, Dr. Russ Kotwal studied the 75th Ranger Regiment's response to patient injuries and concluded 0% potentially survivable casualties. This is a major milestone because it demonstrates that a near-perfect response CAN be achieved. This is the real lesson to be learned as you seek to improve your unit, department or agency, you must look at what made this so successful. How did they do it?
The only clear answer to progress is that you can't continue to do the same thing with the same products and expect improved results. By simply following command adoption and implementing MARCH protocol standardizations every time, the Rangers successfully accomplished improved results, yielding zero preventable deaths. They got every responder to be nearly 100% successful every time. The steps required to achieve exceptional medical results will require change. The change that is needed most is to SIMPLIFY the response – to do more treatments with less training. The deliberate actions necessary to TARGET Preventable Death are as follows:
Simplify Products – to achieve medical AND operational benefit
Simplify the System – for each user- to achieve deep recall and effective interventions
Simplify Programs – easy logistics and full readiness
Improve Medical Device Performance
Regrettably, the typical discussion for selecting effective medical gear is often overshadowed by ancillary talking points. In reality, there are four important criteria for what makes a product effective when treating a critical patient. These are Efficacy, Ease of Use, Cost and Regulatory Considerations. MARCH™ Medical Gear addresses all four considerations, by utilizing superior medical products that are CoTCCC Recommended¹ and/or have been DoD evaluated as 100% effective.² ³
Simplify Responder's Performance with MARCH
There are three root causes of failure that must be eliminated in order for every responder to save every critical casualty life.
1st is Failure to Assess- what injury should I be aware of in this situation?
2nd is Failure to Act- what treatment should I be doing right now?
3rd is Failure to Perform- am I performing the treatment properly?
The result of using MARCH™ Medical Gear is to provide more capability in the specific moment. Too often we train with a hyperactive sense of urgency and intensity that overlook necessary specifics that are crucial during real-life implementation. This commonly leads those being trained down "rabbit holes" of poor assessments and improper product use. This is commonly referred to as "training scars". The better goal must be LESS training, yielding MUCH better results and better performance in more stressful situations. MARCH products are integrated into a color-coded, memory performance system that reduces task complexity and ensures better results for all levels or responders. There is a great deal of research showing that color is by far the strongest recall sense. You may know this if you ever searched endlessly for an app on your smart phone only to find out the color had changed, then you know exactly how powerful color can be for recall.
Reduce Cost and Overly Simplify Logistics:
The last challenge of medical readiness in many instances is the warehouse-based logistics systems. This creates a "buffet style" system that randomly provides pieces and parts of a trauma kit. Medical readiness is often driven by contracts, various medics, types of funding, rotational cycles, etc… and rarely driven by true readiness and capability. Relying on this "buffet style" method means every medical product is on the clock potentially expiring long before the product is ever purchased because this method is utterly constrained by unsynchronized expiration dates; it simply cannot be fixed and it completely destroys readiness and capability. MARCH™ Medical Gear IS the answer to providing agency sustainment. Our simple solution eliminates these constraints before products ever enter the logistics systems. By consolidating and synchronizing all the medical devices within a single manufacturing process, agencies can acquire a 5-year kit with a one, single LOT number and expiration date. Additionally, each kit has an UDI code to track products and simplify any recall potentials. This is the secret to full capability, full readiness and simplified management. By simply using a single, 5-year expiration kit, WHEN ORDERED, we estimate total lifecycle savings to the DoD of $256,000,000 over the FYDP on DoD IFAKs and CLS kits.
This is a new and unique method to achieve readiness an achieve full medical capability for EVERY responder, EVERY patient, EVERY time.
Superior Products… Simplified Logistics… Massive Cost Savings

Color-Coded Tactical Packaging
Each piece of MARCH™ Medical Gear represents best-of-breed capability, optimized ergonomic design, tactical packaging and a 5-year shelf life. Our innovative packaging design links simple icons and color-coded tactical packaging directly to a treatment category within the MARCH™ treatment protocol (Massive Hemorrhage, Airway, Respiration, Circulation, Head & Hypothermia). Leveraging the MARCH™ treatment system is a foundational step in the adoption of standardized medical products and training tactical medical readiness.
1.Celox Gauze, TMT Tourniquet, Tactical Pneumatic Tourniquet (TPT2), CRoC Combat Ready Clamp, Control-Cric
2.Kheirabadi, B. S., Terrazas, I. B., Miranda, N., Voelker, A. N., Arnaud, F., Klemcke, H. G., Dubick, M. A. "Do vented chest seals differ in efficacy? An experimental evaluation using a swine hemopneumothorax model." Journal of Trauma and Acute Care Surgery, 2017
3.Kheirabadi, B Dubick, M, Efficacy Assessment of Celox Rapid (CR) gauze to Control Arterial Hemorrhage in Coagulopathic Swine, ISR Study March 2018